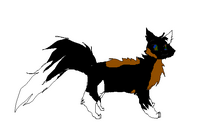 Fishtail is a calico cat with a black fur base and a 'river' across face. She has a brown spot on her back, and white 'socks' on each foot. On each hind-leg, she has a white spot on back of this as well. Her tip of her tail is white, and she has weird multicolored eyes. She is a spunky young calico, who is daring and is always on a adventure!
Fishpaw
250px
Apprentice of BlogClan

Names:

Row 1 info = Fishkit
Row 1 info = Fishpaw
Row I info = Fishtail

No information

Education:

Row 2 info = Mentor(s): N/A
Row 2 info = Apprentice: N/A

No information

Age:

Row 3 info = 18 moons

No information

Affiliations

Row 4 info = Current: BlogClan

No information

Family

Row 5 info = UNKNOWN currently

No information
Ad blocker interference detected!
Wikia is a free-to-use site that makes money from advertising. We have a modified experience for viewers using ad blockers

Wikia is not accessible if you've made further modifications. Remove the custom ad blocker rule(s) and the page will load as expected.