Welcome to BlogClan! This is a wiki containing information on Kate Cary's Blog, Trailing Stars, and more!
IMPORTANT: For character pages, read this blog post. For character infobox templates, go here . 
IMPORTANT: NEW WIKIA CAN BE FOUND HERE
Latest activity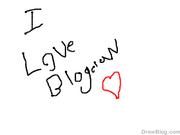 Ad blocker interference detected!
Wikia is a free-to-use site that makes money from advertising. We have a modified experience for viewers using ad blockers

Wikia is not accessible if you've made further modifications. Remove the custom ad blocker rule(s) and the page will load as expected.